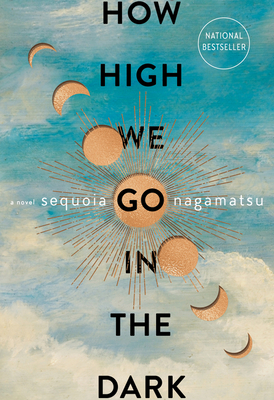 How High We Go in the Dark: A Novel
Publication Date:
January 18th, 2022
Publisher:
William Morrow
This collection of connected stories describes the world after a devastating plague. The book is beautiful — striking, unsettling, and darkly gorgeous. It defies categorization and creates its own genre. A shimmering gem of a book.
February 2022 Indie Next List
Description
NATIONAL BESTSELLER • NEW YORK TIMES BOOK REVIEW EDITORS' CHOICE • ROXANE GAY'S AUDACIOUS BOOK CLUB PICK • FINALIST FOR THE URSULA K. LE GUIN PRIZE
"Moving and thought-provoking . . . offering psychological insights in lyrical prose while seriously exploring speculative conceits." — New York Times Book Review
"Haunting and luminous . . . Beautiful and lucid science fiction. An astonishing debut."  — Alan Moore, creator of Watchmen and V for Vendetta
Recommended by New York Times Book Review • Los Angeles Times • NPR • Washington Post • Wall Street Journal • Entertainment Weekly • Esquire • Good Housekeeping • NBC News • Buzzfeed • Goodreads • The Millions • The Philadelphia Inquirer • Minneapolis Star-Tribune • San Francisco Chronicle • The Guardian • and many more!
For fans of Cloud Atlas and Station Eleven, a spellbinding and profoundly prescient debut that follows a cast of intricately linked characters over hundreds of years as humanity struggles to rebuild itself in the aftermath of a climate plague—a daring and deeply heartfelt work of mind-bending imagination from a singular new voice. 
In 2030, a grieving archeologist arrives in the Arctic Circle to continue the work of his recently deceased daughter at the Batagaika Crater, where researchers are studying long-buried secrets now revealed in melting permafrost, including the perfectly preserved remains of a girl who appears to have died of an ancient virus.
Once unleashed, the Arctic plague will reshape life on Earth for generations to come, quickly traversing the globe, forcing humanity to devise a myriad of moving and inventive ways to embrace possibility in the face of tragedy. In a theme park designed for terminally ill children, a cynical employee falls in love with a mother desperate to hold on to her infected son. A heartbroken scientist searching for a cure finds a second chance at fatherhood when one of his test subjects—a pig—develops the capacity for human speech. A widowed painter and her teenaged granddaughter embark on a cosmic quest to locate a new home planet. 
From funerary skyscrapers to hotels for the dead to interstellar starships, Sequoia Nagamatsu takes readers on a wildly original and compassionate journey, spanning continents, centuries, and even celestial bodies to tell a story about the resilience of the human spirit, our infinite capacity to dream, and the connective threads that tie us all together in the universe.
"Wondrous, and not just in the feats of imagination, which are so numerous it makes me dizzy to recall them, but also in the humanity and tenderness with which Sequoia Nagamatsu helps us navigate this landscape. . . . This is a truly amazing book, one to keep close as we imagine the uncertain future."  — Kevin Wilson, New York Times bestselling author of Nothing to See Here
Praise for How High We Go in the Dark: A Novel
"Moving and thought-provoking . . . You'll be impressed with Nagamatsu's meticulous craft. . . . Well-honed prose, poignant meditations and unique concepts . . . offering psychological insights in lyrical prose while seriously exploring speculative conceits. . . . How High We Go in the Dark is a book of sorrow for the destruction we're bringing on ourselves. Yet the novel reminds us there's still hope in human connections." — New York Times Book Review
"Thoughtful explorations of how the survivors process death and loss . . . Even the bleakest stories conjure up a memorable image, and often that visual involves reaching upward: to the stars, to a memory, or even just stretching your arms skyward at the roller coaster's peak, whether or not you know how the ride ends. . . . ambitious . . . achingly poignant . . . an emotional roller coaster." — NPR
"Exactly the white-hot missive of hope, humanity, and compassion you need . . . Each story is a marvel of imagination . . . Rich in scope and vision, with each nested story masterfully rippling across others, this is a visionary novel about grief, resilience, and how the human spirit endures."
— Esquire
"Nagamatsu's novel isn't about hope, but about how things change in the space between possible and impossible. Of course the one thing that never changes, even or especially in tragic times, is human nature." — Los Angeles Times
"Done artfully. . . . A heartbreaking tribute to humanity." — Entertainment Weekly, 5 Must Read Books
"Lovely and haunting." — Wall Street Journal
"Haunting and hopeful story about grief, loss and the different ways we move on . . . Deeply moving." — NBC News
"How High We Go in the Dark is a truly genre-transcending work in which sense of wonder and literary acumen are given boundless opportunity to shine." — The Guardian (UK)
"This hauntingly beautiful story focuses on how the human spirit perseveres through it all. With everything from a cosmic search for home to a theme park for terminally ill kids and a talking pig, it's a lyrical adventure that feels fantastical yet familiar." — Good Housekeeping, The 15 Best and Most-Anticipated Books of 2022
"[A] searing literary dystopia. . . . Each character is intimately drawn as they grapple with a future that gives very little freedom to hope or dream. . . . It feels like an archive of personal stories about what the future may bring." — Buzzfeed News, 23 New Fantasy And Science Fiction Books We're Excited About
"How High We Go in the Dark is ambitious and intricately plotted. A beautiful meditation on the way everything in this world—no, in the universe—is connected. . . . The writing is beautiful and immersive, and at times hypnotic. It asks both the big questions and the small questions of what will become of us, and even when the answers are complex, there remains the bright beacon of hope." — Roxane Gay
"Haunting and luminous, How High We Go in the Dark orchestrates its multitude of memorable voices into beautiful and lucid science fiction that resembles a fitful future memory of our present. An astonishing debut." — Alan Moore, creator of Watchmen and V for Vendetta
"How High We Go in the Dark is wondrous not just in the feats of imagination, which are so numerous that it makes me dizzy to recall them, but also in the humanity and tenderness with which Sequoia Nagamatsu helps us navigate this landscape, to find a way to survive while holding onto the things that make us human. This is a truly amazing book, one to keep close as we imagine the uncertain future." — Kevin Wilson, New York Times bestselling author of Nothing to See Here
"Sequoia Nagamatsu's How High We Go in the Dark is a sprawling, epic debut that ventures from the Arctic to interstellar space, from life to what may come after it. With precision and harrowing prescience, Nagamatsu envisions the effects—both cultural and planetary—of a mysterious, devastating pandemic; but he explores, too, the astonishing commitment, resilience, and capacity for resilience that enables life—human and otherwise—to reach for survival. Sequoia Nagamatsu is a writer whose imagination is matched only by his compassion, the kind we need to light our way through the dark." — Chloe Benjamin, New York Times bestselling author of The Immortalists  
"Through an imaginative journey that spans centuries and worlds, Sequoia Nagamatsu artfully examines the resiliency of humankind and the drive for a brighter future." — Veranda, The 22 Most-Anticipated Books of the New Year
"A celebration of the resilience of the human spirit."
— San Francisco Chronicle
"Weirdly wonderful and weirdly powerful, a book of speculative fiction so close to real life that its heart-stopping events feel almost inevitable." — Minneapolis Star Tribune
"An absorbing and heartbreaking contemplation on the very nature of life, death, and what it means to be human. Stretching across eons and worlds, these stories provide the power of short narratives, while each builds on the larger text. The novel-in-stories is a form that many writers attempt; Nagamatsu clearly ranks among the masters. Beyond the sheer joy of reading a well-formed text, this novel also presents massive themes in smaller, intimate stories. This form allows us to become immersed in the details of characters' everyday lives, individual struggles, and personal grief, leaving us willing to absorb the larger whole rather than being alienated. . . . It is a book as full of hope, humanity, and possibility as the grief and loss of climate disaster and pandemic laid unflinchingly bare." — The Brooklyn Rail
"Nagamatsu's imagination is boundless, taking readers from hotels for the dead to interstellar starships. Fans of sci-fi and post-apocalyptic stories, look no further."     — Alma, Favorite Books for Winter 2022
"Fans of Cloud Atlas and Station Eleven will love this spellbinding and profoundly prescient debut." — The Millions, Most Anticipated Books of 2022
"Sequoia Nagamatsu's How High We Go in the Dark follows humanity as it crashes, adapts, survives, and rebuilds over the course of centuries." — Bustle, The Most Anticipated Books Of 2022
"Impressive, far-reaching . . . Yes, this is a plague novel, a pandemic novel, one that both honors individual tragedy and asks us to widen our perspective—to look to the future, to the stars. The chapters, which feel like linked short stories, jump decades and centuries, imagining the long-term effects of the Arctic Virus on the world and even the galaxy, without losing touch with the smaller stories of the humans who must contend with it." — Literary Hub, Most Anticipated Books of 2022
"Both epic and deeply intimate, Nagamatsu's debut novel is science fiction at its finest, rendered in gorgeous, evocative prose and offering hope in the face of tragedy through human connection." — Booklist (starred review)
"Exceptional . . . Nagamatsu masterfully folds more conceptual dystopian stories—reminiscent of George Saunders's early 2000s short story work—into the novel's broader climate and pandemic fiction story line, stacking his narratives and lending a sheen of surreality to even the most science-heavy moments. The result is an appealing mélange of literary and science fiction, with rich, mournful language aiding the imaginative strokes. This work reflects the best of what short fiction can accomplish, sketching memorable characters and settings with economy, but Nagamatsu manages to excel equally in the long form, subtly linking his narratives into a handsome whole. If at the end there's no denying the bleakness, Nagamatsu importantly resists nihilism, consistently finding beauty and meaning in the darkness, even at the end of the world. . . . A frightening, moving work about what it means to be human while staring down our own extinction. Essential." — Library Journal (starred review)
"Nagamatsu blends literary and visionary verve in a narrative that's garnering comparisons to Cloud Atlas and Station Eleven." — Library Journal (Spotlight)
"Those courageous enough to sit with the novel's exquisite sorrows will be rewarded with gorgeous prose, memorable characters and, ultimately, catharsis." — Bookpage (starred review)
"Sequoia Nagamatsu's debut is beautiful and unsparing in its depiction of a world reeling from a climate catastrophe-driven plague. Though the universe these stories are unfolding within is undeniably bleak, Nagamatsu imbues his characters with a sense of cosmic hope and humanity." — NPR, 14 books that NPR staff and critics are loving the most so far this year
"How High We Go in the Dark is not a plague novel; it is an after plague novel. Sequoia Nagamatsu nimbly bounds through time, space, and species while tackling the question, Where do we go from here? My favorite kind of speculative fiction—philosophical and hopeful; endlessly inventive, with a beating heart." — Gabrielle Zevin, New York Times bestselling author of The Storied Life of A.J. Fikry
"A novel that is both grimly timely while also moving past our usual notions of time to reveal a wider view—Sequoia Nagamatsu allows his story to unspool with such a great sense of scope, freedom, and clarity, creating a stunning mosaic of experience and humanness." — Aimee Bender, New York Times bestselling author of The Particular Sadness of Lemon Cake
"As ambitious as it is intimate, How High We Go in the Dark is both a prescient warning and a promise of human resilience in the face of any odds. Sequoia Nagamatsu masterfully connects each slice of life into one epic and unforgettable tale, spanning centuries and generations. His debut envisions a future that is at once wonderful and disquieting, dreamlike and all too possible. It reaches far beyond our stars while its heart remains rooted to Earth, and reminds us that our wellbeing depends on the wellbeing of our world." — Samantha Shannon, New York Times bestselling author of The Priory of the Orange Tree
"You can try to compare Sequoia Nagamatsu to George Saunders or Charlie Kaufman or David Mitchell, but his is a singular voice and this is a book so original and wondrous and reality-shredding that it defies easy summary or categorization, like a dream that feels more vivid than life. Arctic plagues! Euthanasia theme parks! Hotels for the dead! Talking pigs! Interstellar starships! It's brave and prescient, completely bananas and yet absolutely moving, packed with humor and heart. I loved it." — Benjamin Percy, author of The Ninth Metal
"Gorgeous, terrifying, compassionate. With funerary skyscrapers, a generation ship painted with history, and a pyramid of souls reaching for light, How High We Go in the Dark is both powerful and original. Nagamastu elegantly dissects disaster with an eye toward empathy and curiosity. At this book's center is a great big, beautiful heart. An exceptional accomplishment that left me equal parts hope and wonder." — Erika Swyler, bestselling author of The Book of Speculation
"How High We Go in the Dark is a book of incredible scope and ambition, a polyphonic elegy for the possible, for all that might be won and lost in the many worlds we make together: the world of our families, our civilization and our planet, the planets beyond. Every tale in Sequoia Nagamatsu's debut generates fresh wonder at all we are, plus hope for all we might become, in these unforgettable futures yet to be." — Matt Bell, author of Appleseed
"Easily one of the best books I've read this year so far . . . Tender and dystopian, the pandemic novel is told in a series of vignettes, each exposing a different pocket of future society—and eventually connecting through characters and circumstances. Nagamatsu sharply paints a picture of society inevitably building industry out of grief . . . It's an ambitious critique of late-stage capitalism, wrapped up in a series of family dramas." — Polygon, The Best Fantasy and Sci-Fi Books of 2022
"Moving . . . Sequoia Nagamatsu's tender humor bestows a kind of weary acceptance on the time-skipping, world-tilting story, even as things get darker and weirder. . . . You'll enjoy the ride." — Philadelphia Inquirer
"A small, slim gem, one that I will likely return to for the rest of my life. . . . How High We Go in the Dark chooses to transcend the chaos and anguish of our pandemic lives . . . to give us, in the tedium of fear and despair, a rare moment of wonder." — Nandini Balial, The Week
"There are shades of Cloud Atlas in Sequoia Nagamatsu's enthralling and sprawling sci-fi debut. . . . An ode to human perseverance and the enduring nature of love. From an unlikely love story that unfolds at a theme park for terminally ill children to an intrepid grandmother's attempt to find a new home planet for herself and her granddaughter, every storyline within this dazzling novel will touch your heart." — Popsugar
"Sequoia Nagamatsu doesn't just grant us access into the chasm of human experience; he plants a flashlight in our hands and invites us to explore. Here we all are, together, navigating the dark unknown. . . . Nagamatsu's dystopian narrative is both prescient and cathartic, an intertwining of imaginative and compassionate stories that give voice and validation to our very real grief and longing, all the while limned with glimmers of hope, virtual reality, and stardust." — Cameron Finch, The Rumpus
"In the vein of David Mitchell and Emily St. John Mandel . . . Nagamatsu's debut novel, following his story collection Where We Go When All We Were Is Gone, lives up to those lofty comparisons and then some with a feat of literary imagination set in the aftermath of a climate plague. A work ten years in the making, it's accidentally timely in some ways but it's also arriving just in time." — Chicago Review of Books
"With How High We Go in the Dark, Sequoia Nagamatsu has done the impossible: written a book expansive enough to tackle the enormity of our climate crisis--and then gone further, to capture our even larger capacity for creation. It is clear from this book that Nagamatsu possesses one of literature's most vibrant and generous imaginations. You will fall in love with these characters and, in so doing, remember your love for the world. How High We Go in the Dark rejects the idea of the novel as the story of an individual and bravely takes on the collective nature both of global warming and of how we can face it." — Matthew Salesses, author of Disappear Doppelganger Disappear and Craft in the Real World