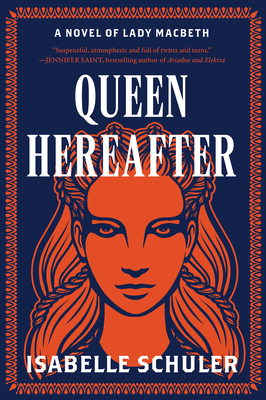 Queen Hereafter: A Novel of Lady Macbeth
Publication Date:
October 10th, 2023
Publisher:
Harper Perennial
Usually Ships in 1 to 5 Days
Description
"A bruising tale of passion, ambition, power, vengeance, and desire . . . a stunning retelling." —Entertainment Weekly, Most Anticipated Books of Fall
"Suspenseful, atmospheric and full of twists and turns, I loved the brutal, backstabbing world that Isabelle Schuler conjures up where only the most ruthless can survive. A thoroughly enjoyable read!"—Jennifer Saint, bestselling author of Ariadne and Elektra
An instant international bestseller: a suspenseful, sweeping historical epic for readers of Natalie Haynes and Madeline Miller, which boldly reimagines the origin story of the woman who inspired one of Shakespeare's most iconic characters, Lady Macbeth.
She will be Queen. Whatever it takes . . .
Daughter of an ousted king, descendant of ancient druids, Gruoch (GREW-ock), has grown up believing that she will be crowned queen of Alba and reclaim the lands of her Pictish kin, a prophecy seemingly fulfilled by her betrothal to Duncan, the heir-elect.
Determined never to be powerless again, she leaves behind her home, her family, and her close friend MacBethad, and travels to the royal seat at Scone to embrace her new position. But Duncan's court is rife with sly words and unfriendly faces, women desperate to usurp her position, and others whose motives are shrouded in mystery.
As her coronation approaches, a deadly turn of events forces Gruoch to flee Duncan and the capital. Alone and at the mercy of an old enemy, her hope of becoming Queen all but lost, Gruoch must make a fateful choice: live a long, quiet life in the shadows, or seize vengeance and a path back to the throne.
A stunning literary reclamation of an iconic character, Queen Hereafter is a gripping story of female ambition, power, history, desire, hate, and vengeance set against the backdrop of early medieval Scotland.
Praise for Queen Hereafter: A Novel of Lady Macbeth
"Missing House of the Dragon levels of court intrigue and scheming queens? Enter Isabelle Schuler's astonishingly entertaining debut; a shrewdly crafted retelling of the story of Grouch, the historical Scottish Queen who inspired Shakespeare's Lady Macbeth. It has everything you need from an immersive, captivating epic, packed with brilliant writing and a suspense-laden plot. There will certainly be a lot more to come from Schuler." — Harper's Bazaar (UK)
"The suspense-filled origin story of one of Shakespeare's best-known characters." — BBC
"Alternative takes on Shakespeare are ubiquitous, but this origin story of the real Lady Macbeth—the debut novel by Swiss Hawaiian-American screenwriter Schuler—is distinctive. There's genuine commitment to character and storytelling in this tale." — The Guardian
"Brimful with suspense, packed with power plays and sinister subterfuge . . . the origin story of Shakespeare's devious Queen. Reclaimed by Schuler from the footnotes of history, her ambitious Queen Gruoch, descended from Druids, daughter of an ousted king and fully her own person, tackles the politics of Duncan's 11th-century Scottish court with steely aplomb." — Daily Mail (UK)
"This action-packed historical tale is a reimagining of the life of the Scottish queen who inspired the story of Shakespeare's Lady Macbeth." — The Independent (UK)
"This is the sinister and gripping story of a ruthless queen, female ambition, history, desire, hate and vengeance." — Book Trib, "8 Scarily Good Reads for Friday the 13th"
"Transports the reader to 11th-century Scotland, a time steeped in religion, superstition, factions and fighting. . . . Schuler has created an immersive world where violence is the norm, and ambition is almost synonymous with survival. . . . If there is a sequel in the works, I'd certainly be interested in reading more." — Historical Novel Review
"Such a breath of fresh air. . . The novel, which deftly mixes Shakespearean fiction with the scant bits of historical fact we know about the real-life figures who inspired the play, unabashedly re-centers Lady Macbeth at the center of her own story. . . . The inventive ways in which her story is framed not only give her a welcome sense of depth and self-determination, but allow her to wholeheartedly embrace the same traits—ambition, ruthlessness, and single-minded focus—that she's long been judged a monster for possessing." — Paste Magazine
"You don't need to have read Macbeth to enjoy this sweeping tale, but you may want to after reading this novel… An irresistible historical novel that lets a vilified queen have her say." — Kirkus Reviews
"Suspenseful, atmospheric and full of twists and turns, I loved the brutal, backstabbing world that Isabelle Schuler conjures up where only the most ruthless can survive. A thoroughly enjoyable read!"  — Jennifer Saint, bestselling author of Ariadne and Elektra
"A gripping and fiercely feminist reimagining of an extraordinary woman. Gruoch's tale is an utterly compelling and absorbing reframing of the character and the story we think we all know." — Caroline Lea, author of The Glass Woman and The Metal Heart
"Schuler bestows the tale of Lady Macbeth with a fierce feminist eye and reclaims her character in this bruising tale of passion, ambition, power, vengeance, and desire. There's no need to screw your courage to the sticking place to lose yourself in this stunning retelling cast against the backdrop of medieval Scotland." — Entertainment Weekly