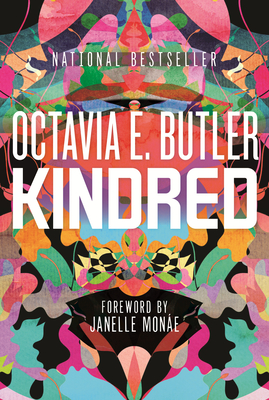 Kindred
Publication Date:
February 1st, 2004
Usually Ships in 1 to 5 Days
Description
From the New York Times bestselling author of Parable of the Sower and MacArthur "Genius" Grant, Nebula, and Hugo award winner
The visionary time-travel classic whose Black female hero is pulled through time to face the horrors of American slavery and explores the impacts of racism, sexism, and white supremacy then and now.
"I lost an arm on my last trip home. My left arm."
Dana's torment begins when she suddenly vanishes on her 26th birthday from California, 1976, and is dragged through time to antebellum Maryland to rescue a boy named Rufus, heir to a slaveowner's plantation. She soon realizes the purpose of her summons to the past: protect Rufus to ensure his assault of her Black ancestor so that she may one day be born. As she endures the traumas of slavery and the soul-crushing normalization of savagery, Dana fights to keep her autonomy and return to the present.
Blazing the trail for neo-slavery narratives like Colson Whitehead's The Underground Railroad and Ta-Nehisi Coates's The Water Dancer, Butler takes one of speculative fiction's oldest tropes and infuses it with lasting depth and power. Dana not only experiences the cruelties of slavery on her skin but also grimly learns to accept it as a condition of her own existence in the present. "Where stories about American slavery are often gratuitous, reducing its horror to explicit violence and brutality, Kindred is controlled and precise" (New York Times).
"Reading Octavia Butler taught me to dream big, and I think it's absolutely necessary that everybody have that freedom and that willingness to dream." 
—N. K. Jemisin 
Developed for television by writer/executive producer Branden Jacobs-Jenkins (Watchmen), executive producers also include Joe Weisberg and Joel Fields (The Americans, The Patient), and Darren Aronofsky (The Whale). Janicza Bravo (Zola) is director and an executive producer of the pilot. Kindred stars Mallori Johnson, Micah Stock, Ryan Kwanten, and Gayle Rankin.
Praise for Kindred
"Reading Octavia Butler taught me to dream big, and I think it's absolutely necessary that everybody have that freedom and that willingness to dream."
—N. K. Jemisin
"In Kindred, Octavia Butler creates a road for the impossible and a balm for the unbearable. It is everything the literature of science fiction can be."
—Walter Mosley
"A marvel of imagination, empathy and detail."
—Stephen Kearse, New York Times
"Truly terrifying . . . A book you'll find hard to put down."—Essence
"This powerful novel about a modern black woman transported back in time to a slave plantation in the antebellum South is the perfect introduction to Butler's work and perspectives for those not usually enamored of science fiction. . . . A harrowing, haunting story."
—John Marshall, Seattle Post-Intelligencer
"Sixteen years after Butler's death, her legacy of fierce imagination feels more relevant than ever. With Kindred illuminating so much of the most compelling speculative fiction, the book stands as an icon for recasting today's challenges—envisioning new role models and possibilities in the process."
—Sheree Renée Thomas, Scientific American
"Octavia Butler is a writer who will be with us for a long, long time, and Kindred is that rare magical artifact . . . the novel one returns to, again and again."
—Harlan Ellison
"One of the most original, thought-provoking works examining race and identity."
—Lynell George, Los Angeles Times
"A startling and engrossing commentary on the complex actuality and continuing heritage of American slavery."
—Sherley Anne Williams, Ms.
"One cannot finish Kindred without feeling changed. It is a shattering work of art with much to say about love, hate, slavery, and racial dilemmas, then and now." —Sam Frank, Los Angeles Herald-Examiner
"Butler's books are exceptional . . . She is a realist, writing the most detailed social criticism and creating some of the most fascinating female characters in the genre . . . real women caught in impossible situations."—Dorothy Allison, Village Voice
"Butler's literary craftsmanship is superb."—Washington Post Book World
"No other work of fantasy or science fiction writings brings the intimate environment of the antebellum South to life better than Octavia E. Butler's Kindred." —Kevin Weston, San Francisco Chronicle
"A celebrated mainstay of college courses in women's studies and black literature and culture; some colleges require it as mandatory freshman reading." —Linell Smith, The Baltimore Sun
"Kindred is as much a novel of psychological horror as it is a novel of science fiction. . .a work of art whose individual accomplishment defies categorization." —Barbara Strickland, The Austin Chronicle
"Her books are disturbing, unsettling… In a field dominated by white male authors, Butler's African-American feminist perspective is unique, and uniquely suited to reshape the boundaries of the sci-fi genre." —Bill Glass, L. A. Style