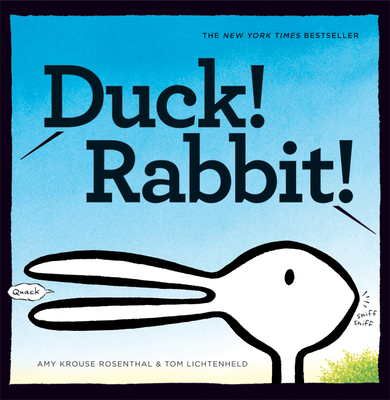 Duck! Rabbit!: (Bunny Books, Read Aloud Family Books, Books for Young Children)
Publication Date:
February 25th, 2009
Publisher:
Chronicle Books
Usually Ships in 1 to 5 Days
I love Duck! Rabbit! -- a great book about looking at things from different perspectives, both of them correct!
Summer 2009 Kids' List
Description
This New York Times bestselling children's book is a smart, simple story that will make readers of all ages eager to take a side.
From the award-winning team of author Amy Krouse Rosenthal and illustrator Tom Lichtenheld comes a clever take on the age-old optical illusion: is it a duck or a rabbit? Depends on how you look at it! Readers will find more than just Amy Krouse Rosenthal's signature humor here; there's also a subtle lesson for kids who don't know when to let go of an argument.
ENGAGING AND THOUGHT-PROVOKING: Children will love the fun story based on the classic duck/rabbit visual puzzle, while parents will appreciate the book's lessons about differing points of view and right versus wrong.
INCREDIBLE TALENT: Amy Krouse Rosenthal's award-winning children's books "radiate fun the way tulips radiate spring: they are elegant and spirit-lifting," according to the New York Times. Her 30+ books for kids include I Wish You More and Yes Day!, both illustrated by Tom Lichtenheld, and Dear Girl, Little Pea, Little Hoot, Little Oink, and Spoon. Tom Lichtenheld is a prolific creator and has illustrated many bestselling favorites, including Steam Train, Dream Train and several titles in the Goodnight, Goodnight, Construction Site series.
RAVE REVIEWS: This bestselling book has earned multiple starred reviews. Highlights include:
"The snappy dialogue makes for fine read-aloud. Duck? Rabbit? As kids will readily see, it depends on how you look at it."—Publishers Weekly, starred review
"How cute is this? Really, really cute."—Booklist, starred review
Perfect for:
Parents, grandparents, and educators
Fans of picture books like They All Saw a Cat, Hello Hello, Red is Best, and Where's the Duck? 
Gift givers looking for a fun, interactive family read aloud book
Praise for Duck! Rabbit!: (Bunny Books, Read Aloud Family Books, Books for Young Children)
"An incredible, playful children's book about a shape that could be either one. Is it a duck or a rabbit? Kids will love it."--Drew Barrymore
A New York Times Bestseller for 9 weeks!
"The snappy dialogue makes for fine read-aloud…Duck? Rabbit? As kids will readily see, it depends on how you look at it."--Publishers Weekly, starred review
"Funny by any standard."--The New York Times Book Review
"How cute is this? Really, really cute."--Booklist, starred review
"...[a] modern twist on a classic form....Once youngsters solve this puzzle, they'll be clamoring for the next."-Kirkus Reviews
"This exercise in visual perception is both a great brainteaser and great fun."--The Horn Book
"You know when people refer to "a book for all ages?" …in [this] new picture book, the cliché proves true….Hop (or swim) and find a Duck! Rabbit! of your very own!"--BookPage