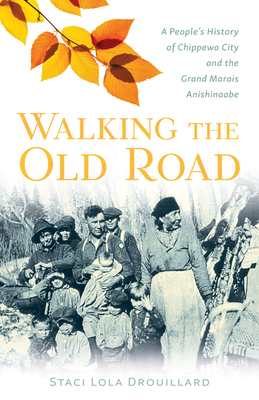 Walking the Old Road: A People's History of Chippewa City and the Grand Marais Anishinaabe
Publication Date:
December 10th, 2019
Publisher:
Univ Of Minnesota Press
Usually Ships in 1 to 5 Days
Description
The story of a once vibrant, now vanished off-reservation Ojibwe village—and a vital chapter of the history of the North Shore
"We do this because telling where you are from is just as important as your name. It helps tie us together and gives us a strong and solid place to speak from. It is my hope that the stories of Chippewa City will be heard, shared, and remembered, and that the story of Chippewa City and the Grand Marais Chippewa will continue to grow. By being a part of the living narrative, Bimaadizi Aadizookaan, together we can create a new story about what was, what is, and, ultimately, what will be." —from the Prologue
 
At the turn of the nineteenth century, one mile east of Grand Marais, Minnesota, you would have found Chippewa City, a village that as many as 200 Anishinaabe families called home. Today you will find only Highway 61, private lakeshore property, and the one remaining village building: St. Francis Xavier Church. In Walking the Old Road, Staci Lola Drouillard guides readers through the story of that lost community, reclaiming for history the Ojibwe voices that have for so long, and so unceremoniously, been silenced.
Blending memoir, oral history, and narrative, Walking the Old Road reaches back to a time when Chippewa City, then called Nishkwakwansing (at the edge of the forest), was home to generations of Ojibwe ancestors. Drouillard, whose own family once lived in Chippewa City, draws on memories, family history, historical analysis, and testimony passed from one generation to the next to conduct us through the ages of early European contact, government land allotment, family relocation, and assimilation. 
Documenting a story too often told by non-Natives, whether historians or travelers, archaeologists or settlers, Walking the Old Road gives an authentic voice to the Native American history of the North Shore. This history, infused with a powerful sense of place, connects the Ojibwe of today with the traditions of their ancestors and their descendants, recreating the narrative of Chippewa City as it was—and is and forever will be—lived.
Praise for Walking the Old Road: A People's History of Chippewa City and the Grand Marais Anishinaabe
"We do this because telling where you are from is just as important as your name. It helps tie us together and gives us a strong and solid place to speak from. It is my hope that the stories of Chippewa City will be heard, shared, and remembered, and that the story of Chippewa City and the Grand Marais Chippewa will continue to grow. By being a part of the living narrative, Bimaadizi Aadizookaan, together we can create a new story about what was, what is, and, ultimately, what will be."—from the Prologue
"Staci Lola Drouillard's thick descriptions and beautiful photographs offer a rare opportunity to be transported through space and time and connect with Minnesota's North Shore. History comes alive in Walking the Old Road."—Anton Treuer, author of Everything You Wanted to Know About Indians But Were Afraid to Ask
"What a beautiful read! Staci Lola Drouillard's enchantingly lyrical descriptions of histories and places interweave with the voices of the Chippewa City people past and present like a braid of sweetgrass."—Linda LeGarde Grover, author of In the Night of Memory
"This clear-eyed book is part memoir, part traditional historical text, part oral history, and all heart. Drouillard's affection for family members is apparent, as well as just the right amount of indignation for inaccuracies in the historical record or stupid stereotypical depictions of American Indians. Words matter, Drouillard writes, and the wrong words 'can spread like a bad cough.'"—The Circle
"Walking the Old Road is a beautiful book. From the first paragraph to the last paragraph, it is a compelling, excellent read, its pages filled with poignant pictures, its text loaded with interesting facts."—Cook County News-Herald
"Drouillard, whose own family once lived in Chippewa City, draws on her ancestors' records and extensive interviews to re-create the experiences of this vibrant community, which persisted through the 1930s."—CHOICE
"I uphold work like Drouillard's as an example: that our histories as Anishinaabe also tie into our continued existence as a people and into our ongoing resurgence of our connections with our culture and our land—our homes. The "Old Road" that Drouillard invokes is just one example of this beautiful work."—American Indian Culture and Research Journal
"A blend of memoir, story, historic photos, and historical analysis, the book pulls the reader back through time to experience pre-tourism life along the North Shore."—Ely Summer Times