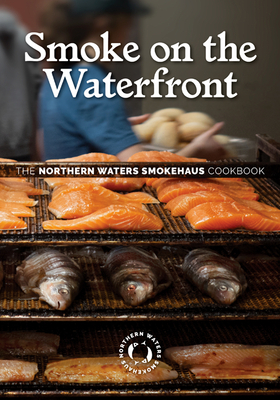 Smoke on the Waterfront: The Northern Waters Smokehaus Cookbook
Publication Date:
November 14th, 2023
Publisher:
Univ Of Minnesota Press
Description
A cultural icon of Lake Superior cuisine shares its story, recipes, and techniques
A port city where shipping, the fur trade, hunting, and fishing—and infamously long, cold winters—have made the preserving and preparing of meat a singular art, Duluth, Minnesota, was uniquely well suited for the Northern Waters Smokehaus when Eric Goerdt launched it in 1998. Fresh off a stint in Sitka, Alaska, where he'd learned a method of smoking fish called kippering, Goerdt set up shop, and soon what had started as a small sandwich counter expanded into a downtown mainstay with a worldwide trade in its signature offerings, all manner of meat and fish smoked and cured on site. A celebration of the Smokehaus's singular contribution to the region's cuisine, Smoke on the Waterfront brings two decades of experience to the table, laying out for food-smoking devotees and for home cooks the stories, recipes, and techniques that have made the establishment a beloved fixture of Third Coast culture. 
The Northern Waters Smokehaus crew shares their many ways of preserving food (smoking, canning, fermenting, charcuterie), including detailed instructions for their kippering process. Smoke on the Waterfront presents recipes that take advantage of the natural bounty of Lake Superior's north shore and capture the flavor of a port city's old-world charm—all workable with simple equipment, such as kettle grills, allowing home cooks to bring the delicious flavors of the Northern Waters Smokehaus to their own kitchens. From simple sandwich construction all the way to sausage twisting, these recipes give readers an opportunity to up their game or to savor their own view of the Smokehaus experience: brining, grilling, freezing, pickling, and fermentation; preparing a charcuterie board, with guidance on sausage, confit, rillettes, light butchery, and sourdough; and roasting, smoking, and braising meats. 
Whitefish smoked or made into a spread or stock; lake trout curried or stuffed with gremolata; pulled pork Minnesota style, smoked wings, and ribs and kimchi with maple sambal; pickled peppers, onions, jalapeños, mushrooms, and, of course, sauerkraut; smoked Polish, Andouille, lamb, and potato sausages; eelpout étouffée, confit duck legs, poultry liver gravy, and pâté; three-day duck poutine, porketta and pasta, braised ruminant, bison pastrami: that's a sample of the provisions that run from roe and gravy to casseroles, chowder, and ice cream. Featuring beautiful photographs, carefully crafted recipes, and the pithy conversational comments of the restaurant's veterans, Smoke on the Waterfront evokes the history and the promise of a rich regional culture that endures—and transcends—boundaries.
Praise for Smoke on the Waterfront: The Northern Waters Smokehaus Cookbook
"Smoke on the Waterfront is the cookbook for anyone who appreciates regional and seasonal American cooking. Northern Waters Smokehaus owner Eric Goerdt has created a business in which folks want to work and collaborate and learn and explore and celebrate the culinary wonders of Lake Superior and northern Minnesota. And for the rest of us, we get to reap the bounties of these explorations. Divided by season, this cookbook is a love letter dosed with affectionate prose toward the greatest of lakes, structured around tried and true recipes that require care, time, and patience to reap the greatest rewards. Whether you need recipes for entertaining, a quick pickle, or plans for curing meats, this book will have you coming back for more and more and more."—Nyanyika Banda, chef/owner of Martha's Daughter, cookbook author, and food historian
"As a lover of smoked fish and amazing sandwiches, I can say that Northern Waters Smokehaus is doing nothing short of a public service for us in Minnesota. Using the highest quality locally sourced ingredients, with each item crafted with great care and attention, Northern Waters checks every box. Their place is a must-stop for myself and family whenever we travel through Duluth, and I know this book will be treasured by many!"—Sean Sherman, author of The Sioux Chef's Indigenous Kitchen and founder of The Sioux Chef, Owamni, NĀTIFS, and the Indigeous Food Lab
"For hundreds of years in the mountains of Laos, Hmong people have been smoking fish and meats. Fire, smoke, salt, and time have been the elements that our people use to create simple and delicious foods. My soul deeply resonates with Northern Waters Smokehaus because even though I'm thousands of miles away from my parents' homeland, I feel so close to home when I read this book. Food is a universal language we use to speak to each other regardless of where we come from and what we look like. Food is the common thread that connects our hearts together."—Yia Vang, chef/owner of Union Hmong Kitchen
"Eric Goerdt is a talented chef who has written an inspiring book that covers much more than how to smoke fish. He makes me want to head into the kitchen and start cooking. Divided into four seasons, Smoke on the Waterfront offers seasonal recipes for fresh pasta, bread, tempting salads, and desserts."—Beatrice Ojakangas, author of Homemade: Finnish Rye, Feed Sack Fashion, and Other Simple Ingredients from My Life in Food
"Listen, the food in here is great, and you're going to surprise yourself with the amazing things you can make, but the true magic of Northern Waters Smokehaus has always been the people who work there. I've been seeing them come and eventually move on for over twenty years. Turns out, if you hire kind people and treat them with dignity, they help make your business better, improve products, foster a positive environment, and make customers realize that they are somewhere special. These recipes will get you there, but it's love that made them, and if you can also put a little of your love in, I know you will make the magic too."—Alan Sparhawk, Northern Waters Smokehaus customer and musician