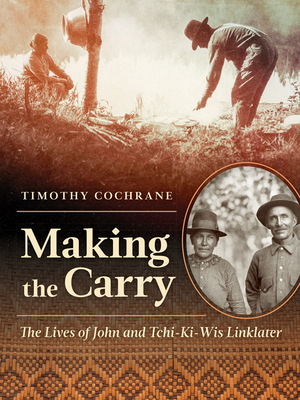 Making the Carry: The Lives of John and Tchi-Ki-Wis Linklater
Publication Date:
March 7th, 2023
Publisher:
Univ Of Minnesota Press
Usually Ships in 1 to 5 Days
Description
An extraordinary illustrated biography of a Métis man and Anishinaabe woman navigating great changes in their homeland along the U.S.–Canada border in the early twentieth century
John Linklater, of Anishinaabeg, Cree, and Scottish ancestry, and his wife, Tchi-Ki-Wis, of the Lac La Croix First Nation, lived in the canoe and border country of Ontario and Minnesota from the 1870s until the 1930s. During that time, the couple experienced radical upheavals in the Quetico–Superior region, including the cutting of white and red pine forests, the creation of Indian reserves/reservations and conservation areas, and the rise of towns, tourism, and mining. With broad geographical sweep, historical significance, and biographical depth, Making the Carry tells their story, overlooked for far too long.
John Linklater, a renowned game warden and skilled woodsman, was also the bearer of traditional ecological knowledge and Indigenous heritage, both of which he was deeply committed to teaching others. He was sought by professors, newspaper reporters, museum personnel, and conservationists—among them Sigurd Olson, who considered Linklater a mentor. Tchi-Ki-Wis, an extraordinary craftswoman, made a sweeping array of necessary yet beautiful objects, from sled dog harnesses to moose calls to birch bark canoes. She was an expert weaver of large Anishinaabeg cedar bark mats with complicated geometric designs, a virtually lost art.
Making the Carry traces the routes by which the couple came to live on Basswood Lake on the international border. John's Métis ancestors with deep Hudson's Bay Company roots originally came from Orkney Islands, Scotland, by way of Hudson Bay and Red River, or what is now Winnipeg. His family lived in Manitoba, northwest Ontario, northern Minnesota, and, in the case ofJohn and Tchi-Ki-Wis, on Isle Royale. A journey through little-known Canadian history, the book provides an intimate portrait of Métis people.
Complete with rarely seen photographs of activities from dog mushing to guiding to lumbering, as well as of many objects made by Tchi-Ki-Wis, such as canoes, moccasins, and cedar mats, Making the Carry is a window on a traditional way of life and a restoration of two fascinating Indigenous people to their rightful place in our collective past.
Praise for Making the Carry: The Lives of John and Tchi-Ki-Wis Linklater
"Well researched and touching, at the heart of Timothy Cochrane's story of the north—of the deep woods, the Indigenous people, the settlers, and the fur trade—is the marriage of Tchi-Ki-Wis and John Linklater, a true traditional Ojibwe nabem gaye wiw partnership. The accompanying photographs admit the reader further into the lives and times of the Linklaters and the history of Minnesota's Arrowhead region."—Linda LeGarde Grover, author of Gichigami Hearts: Stories and Histories from Misaabekong
"This deep dive into the story of Jack and Tchi-Ki-Wis Linklater, a Métis and Anishinaabe couple, brings our beloved border north woods to life like nothing I've ever read. This remarkable pair were a living bridge a century back as the canoe country transformed during the twentieth century. You'll see the Boundary Waters in a whole new light."—Paul Schurke, founder and director, Wintergreen Adventures
"I heard stories about Jack Linklater while I was growing up in Ely, Minnesota. The man I heard about was the consummate guide, hunter, trapper, musher, and game warden: all things that, as a boy, I aspired to. But all I heard were stories. Now, here is Timothy Cochrane's biography, adding to the legendary Linklater's extraordinary career. Jack, as revealed, was a commercial fisherman at Isle Royale, worked at the sawmills in Winton, and contributed his knowledge of the area's biodiversity to science. His Lac La Croix Ojibwe wife, Tchi-Ki-Wis emerges in Cochrane's book as Jack's industrious helpmate and an extraordinary artist. Making the Carry is a valued contribution to Minnesota's Indigenous history."—Carl Gawboy, artist and author
"Local author Tim Cochrane hits all of the right notes with this book, a love story about a couple who lived through many hardships and significant changes that occurred in Canada, Minnesota, and Michigan's Isle Royale. "—Cook County News Herald
"Cochrane's rich depiction of the north country and the material conditions of this
couple's life is greatly enhanced by dozens of illuminating photographs."—The Star Tribune
"A meticulously researched and carefully documented microhistory of Indigenous presence and influence on the Boundary Waters region and beyond."—World History Encyclopedia
"This fascinating biography also includes rarely seen photographs, maps, and the Linklater family tree, giving the reader a deeper look at the lives and time of the Linklaters and their place in history. "—Northern Wilds
"Cochrane's storytelling is rich in historical facts, photographs and maps. His writing is conversational, easy to follow."—Chronicle Journal
"Besides being well written, the book is generously illustrated — with 65 black-and-white period-piece photos, 21 colour plates and four historical regional maps. "—Winnipeg Free Press
"A gripping biography that details the amazing lives of John Linklater and his wife Tchi-Ki-Wis."—Anishinabek News