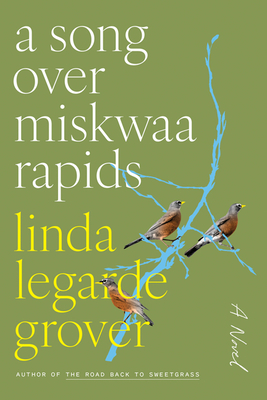 A Song over Miskwaa Rapids: A Novel
Publication Date:
November 7th, 2023
Publisher:
Univ Of Minnesota Press
Usually Ships in 1 to 5 Days
Description
A fifty-year-old mystery converges with a present-day struggle over family, land, and history
 
When a rock is dislodged from its slope by mischievous ancestors, the past rises to meet the present, and Half-Dime Hill gives up a gruesome secret it has kept for half a century. Some people of Mozhay Point have theories about what happened; others know—and the discovery stirs memories long buried, reviving a terrible story yet to be told.
Returning to the fictional Ojibwe reservation in northern Minnesota she has so deftly mapped in her award-winning books, Linda LeGarde Grover reveals traumas old and new as Margie Robineau, in the midst of a fight to keep her family's long-held allotment land, uncovers events connected to a long-ago escape plan across the Canadian border, and the burial—at once figurative and painfully real—of not one crime but two. While Margie is piecing the facts together, Dale Ann is confronted by her own long-held secrets and the truth that the long ago and the now, the vital and the departed are all indelibly linked, no matter how much we try to forget. 
As the past returns to haunt those involved, Margie prepares her statement for the tribal government, defending her family's land from a casino development and sorting the truths of Half-Dime Hill from the facts that remain there. Throughout the narrative, a chorus of spirit women gather in lawn chairs with coffee and cookies to reminisce, reflect, and speculate, spinning the threads of family, myth, history, and humor—much as Grover spins another tale of Mozhay Point, weaving together an intimate and complex novel of a place and its people.
Retail e-book files for this title are screen-reader friendly.
About the Author
Beginning with her award-winning debut story collection The Dance Boots and continuing with her novels The Road Back to Sweetgrass and In the Night of Memory, both published by Minnesota, Linda LeGarde Grover has created and explored the imaginary Mozhay Point Ojibwe Reservation in northern Minnesota. She also wrote the poetry collection The Sky Watched and a book blending memoir, history, and Ojibwe tradition, Gichigami Hearts: Stories and Histories from Misaabekong. She is professor emerita of American Indian studies at the University of Minnesota Duluth and a member of the Bois Forte Band of Ojibwe.
Praise for A Song over Miskwaa Rapids: A Novel
"A sprawling, poignant chronicle of struggle and survivance."—Kirkus Reviews
"With its powerful, atmospheric descriptions of the natural world, A Song over Miskwaa Rapids resembles an Indigenous family saga in miniature, couching memory and mystery in a potent spirit world."—Foreword Reviews