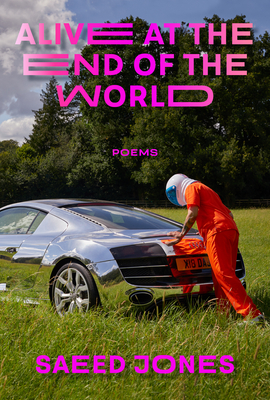 Alive at the End of the World
Publication Date:
September 13th, 2022
Publisher:
Coffee House Press
Usually Ships in 1 to 5 Days
Description
Pierced by grief and charged with history, this new poetry collection from the award-winning author of Prelude to Bruise and How We Fight for Our Lives confronts our everyday apocalypses.
In haunted poems glinting with laughter, Saeed Jones explores the public and private betrayals of life as we know it. With verve, wit, and elegant craft, Jones strips away American artifice in order to reveal the intimate grief of a mourning son and the collective grief bearing down on all of us.
Drawing from memoir, fiction, and persona, Jones confronts the everyday perils of white supremacy with a finely tuned poetic ear, identifying moments that seem routine even as they open chasms of hurt. Viewing himself as an unreliable narrator, Jones looks outward to understand what's within, bringing forth cultural icons like Little Richard, Paul Mooney, Aretha Franklin and Diahann Carroll to illuminate how long and how perilously we've been living on top of fault lines. As these poems seek ways to love and survive through America's existential threats, Jones ushers his readers toward the realization that the end of the world is already here--and the apocalypse is a state of being.