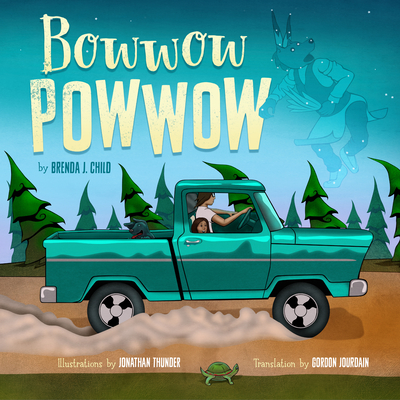 Bowwow Powwow
Publication Date:
May 1st, 2018
Publisher:
Minnesota Historical Society Press
Usually Ships in 1 to 5 Days
Description
Windy Girl is blessed with a vivid imagination. From Uncle she gathers stories of long-ago traditions, about dances and sharing and gratitude. Windy can tell such stories herself-about her dog, Itchy Boy, and the way he dances to request a treat and how he wriggles with joy in response to, well, just about everything.
When Uncle and Windy Girl and Itchy Boy attend a powwow, Windy watches the dancers in their jingle dresses and listens to the singers. She eats tasty food and joins family and friends around the campfire. Later, Windy falls asleep under the stars. Now Uncle's stories inspire other visions in her head: a bowwow powwow, where all the dancers are dogs. In these magical scenes, Windy sees veterans in a Grand Entry, and a visiting drum group, and traditional dancers, grass dancers, and jingle-dress dancers-all with telltale ears and paws and tails. All celebrating in song and dance. All attesting to the wonder of the powwow.
This playful story by Brenda Child is accompanied by a companion retelling in Ojibwe by Gordon Jourdain and brought to life by Jonathan Thunder's vibrant dreamscapes. The result is a powwow tale for the ages.
About the Author
Brenda Child is professor of American Studies at the University of Minnesota and author of Boarding School Seasons: American Indian Families, 1900-1940, Holding Our World Together: Ojibwe Women and the Survival of Community, and My Grandfather's Knocking Sticks: Ojibwe Family Life and Labor on the Reservation, 1900-1940. Jonathan Thunder is a painter, illustrator, animator, designer, and storyteller. View his work at thunderfineart.com. Gordon Jourdain teaches at the Misaabekong Ojibwe Language Immersion program for Duluth Public Schools.